I'd originally planned to visit some friends in Denver last weekend but it was 90+ degrees there and I don't go ANYWHERE (voluntarily) if it's above 80 degrees. LOL! Instead, I headed over to the Telluride area.
No specific plans were made (I didn't do ANY research about where to go or what to do.) but while searching for a place to camp overnight, I stumbled on the Blue Lakes Trailhead, one of the few in the Mount Sneffels Wilderness. Since it was Thursday, there were quite a few vacant camping spots in the national forest.
It was Teddy's first tent camping experience and, once he figured out that the tent wasn't all that scary, he did amazingly well… although he didn't want to leave the safety of the truck at first.
The Blue Lakes Trail is a 6.3 mile roundtrip hike with an elevation gain of 1590′. It's pretty steep in areas but after the first 2 miles, it levels out nicely and you know you're close to the top when you pass a waterfall on the left. I got an early start (it was 38 degrees!) and Teddy and I were at the lake before much of the crowd.
There are actually 2 lakes but I only made it to the lower one. It's a short, steep trail to the upper Blue Lakes and a demanding trail that ascends 1,250-ft. in 1.4 miles to the panoramic viewpoint at Blue Lakes Pass. I just don't have the stamina for an 11 mile round trip hike. *sigh
The only negative thing I have to say is that so many people hike this area, that they've left a definite adverse impact by creating tons of other trails off the main one. It's definitely a case of being loved to death.
The second night I camped up near Telluride (Priest Lake) but didn't get in any other hikes. It gets too busy for me on weekends so I just headed home.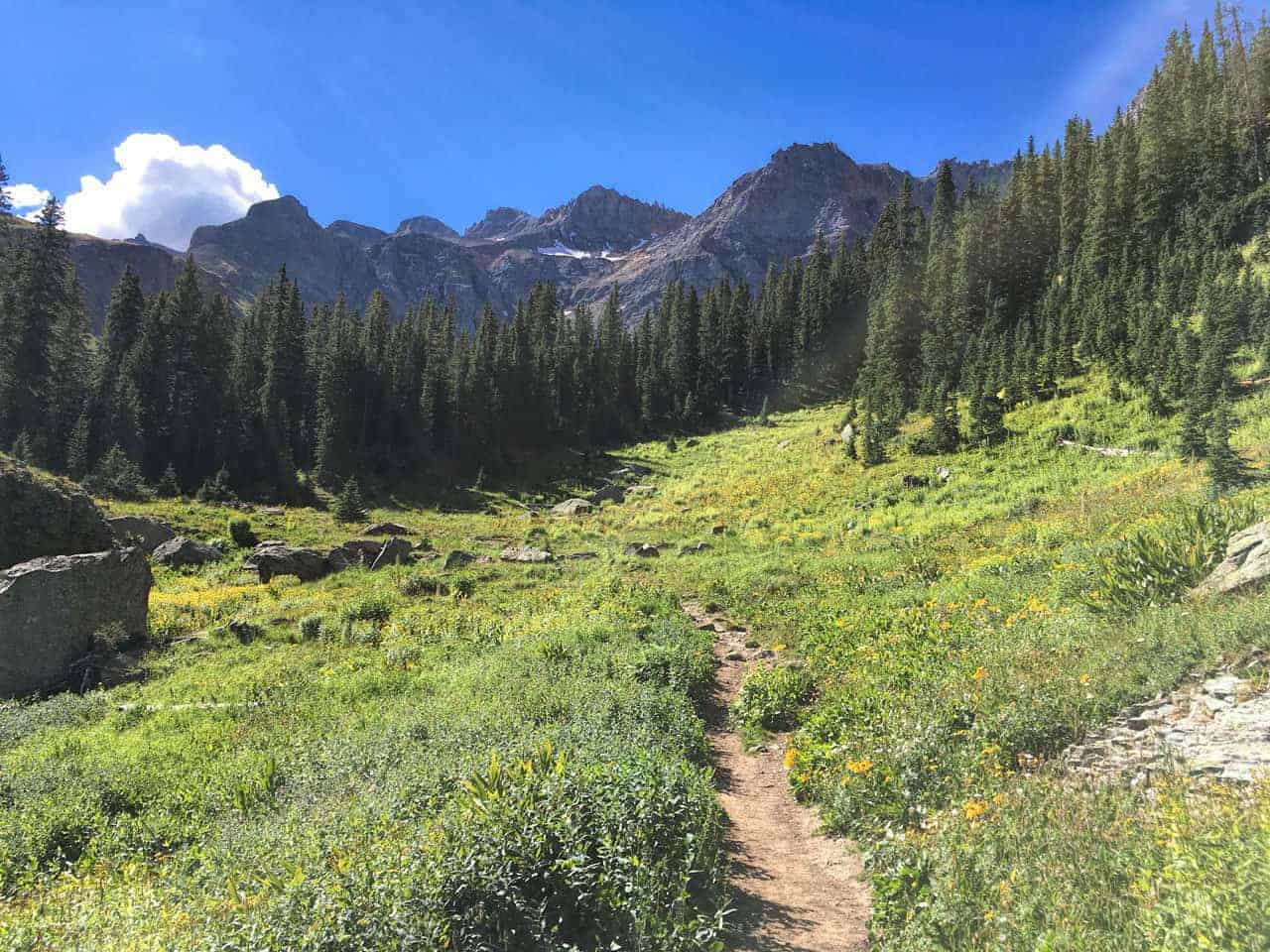 Teddy enjoyed cooling off in the water. He's not the best swimmer but he does ok.